In photo above, SJND School alumna Chantelle Tiu and her sister, Emmalyn, a current eighth grader at the school, painted a 60-foot-wide by 10-foot-wide mural to bring the story of St. Julie Billiart "to life."
For Keith Martin, principal of St. John Notre Dame School in Folsom, and his teachers, staff and students, celebrating the school's 60th anniversary means giving attention to everything that brought the school to this moment in time. Moreover, it means celebrating the school today and stewarding its treasure – the hard work of decades – to endure and thrive well into the future.
We're celebrating the moment," Keith says of all the events designed to recognize the school's founding on Oct. 11, 1962, but also the myriad values, experiences and community which define the school as a highly successful, much-beloved community asset.
"We're celebrating Folsom, we're celebrating history, our traditions, our founding religious sisters, our creativity," Keith continues, almost without pause, offering an enthusiastic litany of thanksgiving for the school's numerous blessings. He sees these commemorations as vitally important not only for student and community learning, but also for sustainability.
All "this hard work" over 60 years "needs to be transferable," Keith insists, stressing a readiness to carry forward the "force of good" that he has observed in his nine-year tenure, with six of those years as principal.
With 370 students - St. John Notre Dame is near capacity with waiting lists for almost every grade level- Keith discusses the "obvious need for a thriving Catholic school in Folsom." Primarily serving St. John the Baptist Parish, the only Catholic church in Folsom, Keith cites a large and growing Catholic population due to Bay Area families moving east and the burgeoning "south of Highway 50" project. 
The school shoulders its responsibility with humility and joy, keenly aware of its well-known Catholic culture  and commitment to rigorous academics, worship and service. Keith further emphasizes celebrations of "parents as primary educators, the holy Eucharist, and a curriculum aligned with the Incarnation." 
"Folsom is a strong community of faith," Keith adds, indicating that all denominations and particularly Catholics "deserve a place to educate their children" without worry about contrary societal messages.
The earliest days
Betty Dolan, a former teacher of 34 years and one-time interim principal, remembers all the excitement leading up to the arrival of the Sisters of Notre Dame de Namur 60 years ago. Hers was a founding family involved in preparing the modest, four-room convent for the sisters, whom she describes as inspiring and "all-around good people who were very concerned for every little kid."
Betty and other mothers shopped to furnish the convent with linens and dishes, brought cookies and casseroles, and gave up Saturdays to accompany the women religious on grocery store outings since they were not allowed to ride in automobiles alone with men.
Betty laughs in disbelief at how the community decided to collect 93,000 Campbell's soup labels to secure a station wagon from the local Chevrolet dealer.
"Can you imagine 93,000 soup labels?" she quips, recounting the cutting, trimming and bundling, adding "in those days everybody helped everybody." She laments the tedious undertaking, but beams at the fact that "we got our 93,000 and they gave us a station wagon!"
"People were just so excited about having a school," Betty explains, and tells how "people were very generous with their time." She details how from the earliest days, the school "wanted to include everybody in the town," in its activities and outreach. SJND's community-centric nature remains a standard today as the administration extols its relationship with the city of Folsom.
Reminiscing about why having the sisters was so important, Betty says, "It was like higher education." She means higher in the sense of heavenly, saintly and holy, instructing children in academics but also on another plane of wholesome goodness.
"They taught them religion, they taught them how to act, how to greet people, and how to get along with each other in the classroom and on the playground," Betty says, valuing these lessons as the mother of four.
The staying power of the spirit and charism of the sisters left an indelible mark on SJND School that persists today.
'Teach the children what they need for life'
Keith sees how the charism of the religious order and the personal charism of co-foundress St. Julie Billiart (1751-1816) are immortalized in the school's ethos. Summarized and repeated often, the words "teach the children what they need for life" represent the sisters' charism and the underlying ethic of this "heritage" school.
Keith explains that a heritage school is an official moniker resulting when the Sisters of Notre Dame de Namur leave a school community, moving from "an active school under their administrative responsibility" to a purposefully-decided heritage school. "The school makes a decision to continue the tradition and hallmarks of the sisters," Keith adds, stating that the decision was made in 1984.
Especially in the past several years, SJND worked to rediscover its roots in the sisters and St. Julie Billiart, whose personal charism expresses "how good the good God is."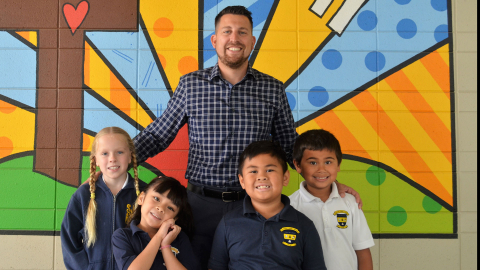 As part of the year-long celebration, SJND moved to install a mural on campus to commemorate its origins and the role of the sisters. Keith turned to alumnus Chantelle Tiu and her sister, Emmalyn, a current eighth-grade student. Both girls enjoy art and painting. They spent their summer designing mural pitches until a choice was made.
The 60-foot-wide by 10-foot-high mural "is characterized by its simplistic style, pleasing color palette and meaningful imagery," says Chantelle, a freshman at Folsom Lake College. Chantelle and Emmalyn consider the project a blessing and a "once-in-a-lifetime experience" to paint for SJND, where their artistic journeys began.
Bringing the story of St. Julie Billiart "to life," the mural features symbols of "her enduring faith… the children of God…her childhood home" and "St. Julie herself," Chantelle shares.
True witness
The school's immersion into its history reminds the community of how the Holy Spirit "provides time and time again, new generations of disciple-makers and pedagogies," Keith affirms. He stresses how in this present time, too, the school is "gifted with selfless teachers who are not only experts in their areas of discipline and curriculum or grade level," but also with a commitment to "give what they've received."
"They receive sacrament, they receive Christ, and they transmit that in the classroom," Keith says, clearly grateful for the SJND educators and staff who live the school's mission and vision while also carrying forward the spirit of the Sisters of Notre Dame de Namur.
"That's what you need for a joyful, authentic Catholic school – true witness," Keith says, highlighting the priority everyone places on the ministry to "unveil the love of Jesus Christ."
As this 60th anniversary year marches on, having recognized founding families and alumni, the SJND community intends to perpetuate these relationships with heads and hearts invested in sustainability. Keith also knows the school will continue to celebrate the sisters in religious and curriculum development, ensuring their hallmarks will offer "measurable markers of our Catholic identity."